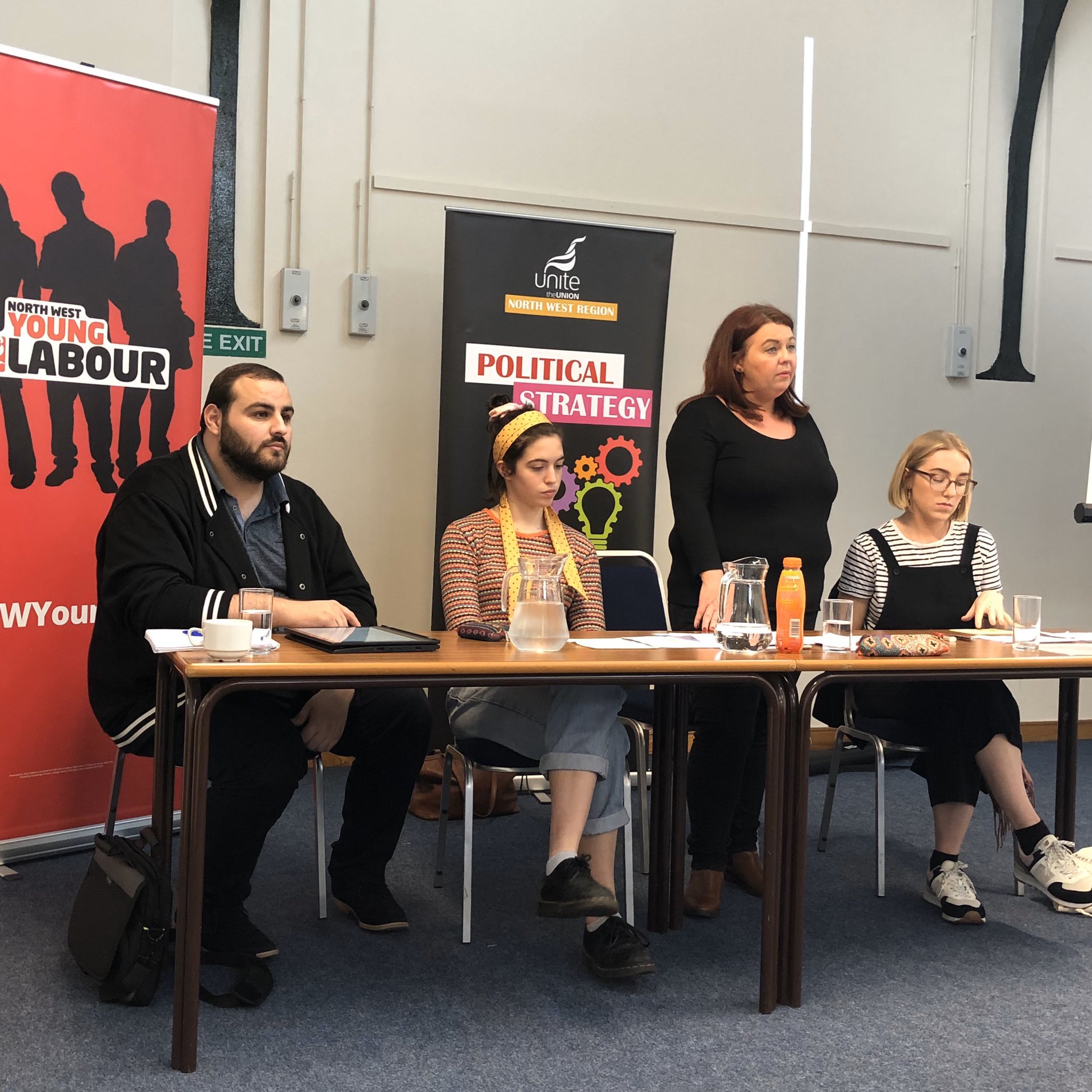 On Saturday I was invited to speak at North West Young Labour conference on the topic: "Ending the scourge of low pay". It was a pleasure to meet so many inspiring young activists.
It is as vital as ever that trade unions campaign against the scourge of low pay and it is crucial that young people are at the centre of that struggle. UNISON members in the North West are fighting on the frontline against poverty pay. We have been involved in 10 industrial disputes in the North West in the last 12 months. 9 out of 10 of the disputes were about the issue of pay, whilst the other was a dispute against an employer whose pension cuts disproportionately affected young people.
Private companies including Compass, Sodexo, Engie, ISS, OCS and iFM have taken contracts to deliver public services within the NHS or on behalf of the council, and then begin to hack away at pay and conditions for workers. This has a disproportionately negative effect on young people. Workers who were transferred from the public sector when the contract was handed to private companies usually have at least partially protected pay and conditions. Meanwhile, the private company will systematically employ new staff on worse contracts over a period of time- often exploiting younger workers in the process.
Our approach at UNISON North West has been to tackle this head on by demanding the public sector rate for the job for all workers and no less. Within the NHS, this is £9.03 per hour for the lowest paid workers- this rate will rise in early 2020. We've won several major campaigns in Liverpool, Manchester, Salford and Bolton hospital trusts on this issue- taking on huge multinational corporations in the process.
Another sector where we have seen young people disproportionately hit by scandalously levels of low pay is the social care sector. UNISON North West launched the Care Workers for Change campaign in 2016 which yielded some very positive results including identifying some excellent new young activists. Shockingly, unlike within the NHS, our disputes in social care did not aim to level up the minimum wage to a real Living Wage but actually sought to ensure that care companies paid even the minimum wage to their workers.
Within Alternative Futures Group and Lifeways, two so-called "charities" who deliver social care on behalf of North West councils, our members were being paid less than the national minimum wage to deliver social care. What is most galling about this vile practice is that neither care provider were actually breaking the law. Levels of pay as low as £3 or £4 per hour are legal during so-called "sleep in" shifts where care workers stay away from their families with challenging service users to deliver care through the night. Having spoken to our social care members, I know that there is not much sleeping that goes on during these "sleep in" shifts! We took these providers on and won significant improvements to the levels of pay for these shifts. Non-payment of the minimum wage for sleep ins is still legal, though UNISON is taking this case to the Supreme Court early in 2020.
UNISON is challenging low pay in the North West by seeking to deliver higher standards for all workers, never leaving out younger workers. It is a national disgrace that our rebranded minimum wage system discriminates against under-25s. It is not something which UNISON will tolerate and I'm delighted that it's not something the Labour Party will tolerate. If George Osborne had sought to single out another demographic in the way he did to young people, it simply would not have been allowed to happen. Young workers should never be treated as cheap labour, as second class citizens within our workplaces. A social contract used to exist which recognised that every young person will learn their trade and deserves to be invested in and developed. The assumption though, that young workers have less to contribute than older colleagues, and therefore are worthy of lower pay, is simply wrong.
One way that UNISON is seeking to deal with this particular issue, and several others, is by encouraging public sector employers to sign up to our Respect Your Youth Charter. Just last week, our Southport and Ormskirk branch won their campaign to get Southport NHS Trust to sign up to the charter. The five-point charter asks for: the implementation of the Real Living Wage irrespective of age; quality apprenticeships; fair employment; workplace equality; and increased training opportunities. This document can be used as a road map to eradicate low pay, ensure fair treatment and improved opportunities for young workers in our workplaces.
My call to the young Labour activists on Saturday was: join a union! The economy is currently rigged in favour of bosses and it's only through forming a union that young workers will ever make change in their workplaces and transform society. 
We need a new generation of trade unionists to lead our branches, our regions and our national union. Maybe a few of them were in attendance on Saturday at the Mechanics Institute- the birthplace of trade unionism.
Do you like this post?