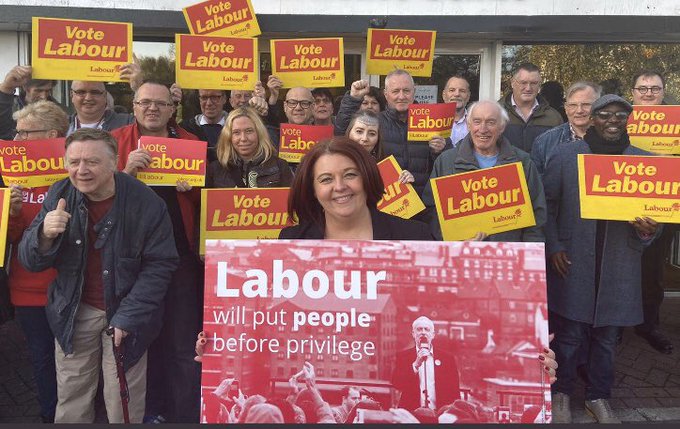 Last weekend, I was selected as the Labour Party's prospective parliamentary candidate for the seat of Liverpool Wavertree, the constituency I was born in. It was an honour and a privilege to receive the support of local members and I now look forward to campaigning relentlessly for a Labour Government.
For public service workers like those I have been proud to represent as regional convenor and for people who rely on health and caring services, this election will be the fight of our lives – and we've got to give it our all.
The Prime Minister blusters and blames others, but his tenure as PM has been a litany of failures. He has lost vote after vote and lest we forget- was found to have deliberately broken the law by a unanimous judgement of the Supreme Court. Another textbook example of Johnson misleading the country.
As I begin my campaign in Liverpool Wavertree, I am confident that the people of Merseyside will not be taken in by Johnson's lies.  Liverpool is a city which knows Johnson well- a city which recognises when our Prime Minister lets his mask slip. We all know about comments within Johnson's right wing Spectator magazine, which made sick accusations about Liverpool over the Hillsborough disaster. They accused Liverpool of "wallowing in victim status". Well Liverpool will not be Boris Johnson's victim. I shared a platform with Jeremy Corbyn at a Labour Party rally in Liverpool several weeks ago- I saw the determination from our city's Labour Party members to turf Johnson's Tories out of Government for good.
Boris Johnson, despite holding the highest office in the land, is behaving as Boris Johnson always does- dishonestly, in his own interests and with no regard for ordinary working people in this country. Leave or remain, we all know that this man serves no-one but himself and he certainly does not serve the interests of UNISON members, or of the working class at large. In fact, he is a Prime Minister elected by just 0.1% of the population. We really are the 99%!
And though Boris may be particularly vile, he is just the latest in a long line of Tory Prime Ministers who have inflicted misery on ordinary people up and down the country. We are approaching a decade of Tory-led governments. People are suffering under austerity and there is an urgent need for change.
And let us not forget, that the Coalition Government which brutally attacked public services, would never have come into existence without Liberal Democrats, who were only too happy to lend a hand. Jo Swinson does her best to erase the years 2010-2015 from the Lib Dems' history, but we will remember. We will remember the coalition of cuts and cruelty.
UNISON NW is currently supporting striking drug and alcohol support workers in Wigan and Leigh who work for Addaction. The organisation have refused to budge an inch and won't even meet with the striking workers. Addaction's chief executive left the organisation last week to become the new chief executive of the Liberal Democrats! Yet another example, as if we needed one, which shows that the Lib Dems are never on the side of the workers.
The health service is creaking after a decade of austerity, proving that you can never trust a Tory with our beloved NHS. Johnson seems to be undertaking a nationwide tour of NHS hospitals in order to boost his party's health credentials but he simply can't paper over the cracks of a health service which is starved of funding and beset by privatisation and outsourcing.
Council services have also been decimated – hardest hit by a global crisis that started in Wall Street and Canary Wharf, not Wigan or Cumbria. And care services, for so long stretched to crisis point, are now actually breaking down across the country with low-paid workers, working long hours to support vulnerable people. All deserve so much better.
We urgently need a programme of economic transformation. We urgently need a Labour government led by Jeremy Corbyn. I agree with our General Secretary Dave Prentis' assertion that we must put aside past disagreements and go straight into this election, united and ready to win with a radical manifesto that delivers real change for this country.
This General Election provides us with a once in a generation opportunity to deliver real change. From Boris Johnson to Jeremy Corbyn- what a transformation that would be for Number 10 Downing Street and for the whole country.
The Labour Party of 2019 has laid out an unprecedented programme which would shake the establishment to its core and hand power back to ordinary people. There are hundreds of policies which would benefit us all... From the £10 minimum wage, to scrapping zero hours, an end to public sector outsourcing, the repeal of the Tory Trade Union Act, a Green Industrial Revolution, the establishment of National Education and National Care Services... The list goes on. 
I will do my utmost to fight for this manifesto and for our party in Liverpool Wavertree. I know that UNISON members throughout the North West will do the same in their own constituencies. Three excellent UNISON activists- Kim Johnson, Carl Greatbatch and Tony Wilson have also been selected as the Labour candidates for Liverpool Riverside, Newcastle-under-Lyme and Hazel Grove respectively. They are all excellent candidates and would be magnificent representatives of working class people. And of course, we have the fantastic Angela Rayner MP, my predecessor as UNISON NW regional convenor, who is standing again as MP for Ashton-under-Lyne. This shows that UNISON's political strategy in the North West is making progress- we are campaigning to ensure that more working class people are returned to Parliament.
The people are desperate for change and there is a Labour Government ready and waiting to transform this country. Let's all do our bit to return a Labour MP wherever we are, to return a Labour Government and to get Jeremy Corbyn into number 10 Downing Street.
Do you like this post?