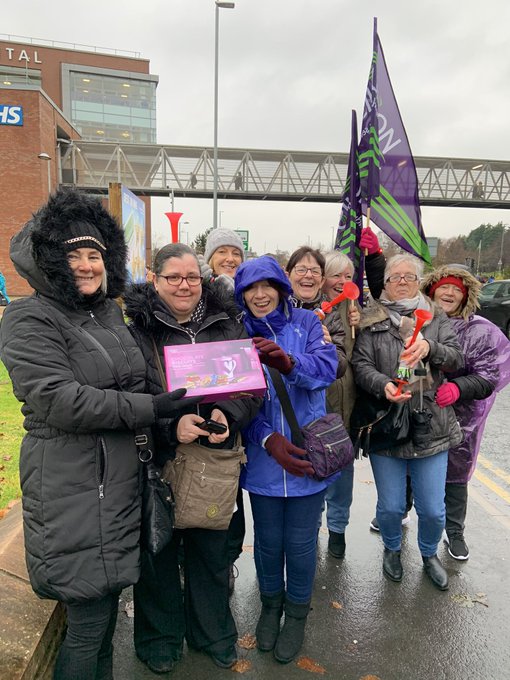 Around 300 staff employed by private contractor Compass within NHS trusts in St Helens and Blackpool are beginning their fifth round of strike action today.

After the current two day strike, the hospital workers will have taken 14 days of action over the company's failure to match health service pay rates and working conditions.
The latest strike comes as a recent UNISON/ComRes poll has revealed that just one in three people believe transferring NHS staff over to work for private companies is acceptable.
The survey of more than 2,000 also reveals that half of those polled fear the efficiency of the NHS could be undermined as a direct result of non-medical health employees – including cleaners, porters and catering workers – being outsourced.
The poll also found that more than three in five (63%) say it's unfair that the transfer of staff can affect the pay and conditions of workers, meaning they are in a worse position than those in equivalent roles still employed in the NHS.
UNISON general secretary Dave Prentis said: "These hospital staff deserve to be paid NHS rates – it's as simple as that. 
"Outsourcing has created a two-tier system that does nothing for patients and merely generates profits for company shareholders. The sooner the next government stops the creeping spread of privatisation in public services, the better."
UNISON North West regional organiser Lisa Oxbury said: "There is growing concern up and down the country that NHS privatisation is having a negative impact on patient safety, cleanliness, food quality, efficiency and the fair treatment of health service staff.
"In St Helens and Blackpool, the staff know only too well the impact of NHS outsourcing. Multi-billion pound Compass has no interest in local patients or staff, its focus is simply striving to deliver a profit. That has come about by paying hospital staff less than the NHS rate for the job.
"It's NHS patients, as well as hospital staff and their families who lose out. Millions of pounds are being sucked out of our local economy and dedicated hospital workers have been forced back out on strike just before Christmas. It's time for the two NHS trusts in St Helens and Blackpool to say enough is enough. It's down to them to get Compass under control or bring the services back in-house."
Hospital cleaners, caterers, porters, receptionists and security workers affected are paid different rates to colleagues employed directly by the NHS. On top of the differing hourly rates of pay, Compass staff don't receive shift bonuses for working weekends or bank holidays. In addition, they receive only statutory sick pay, whereas NHS colleagues have a comprehensive sick pay scheme. 
Do you like this post?