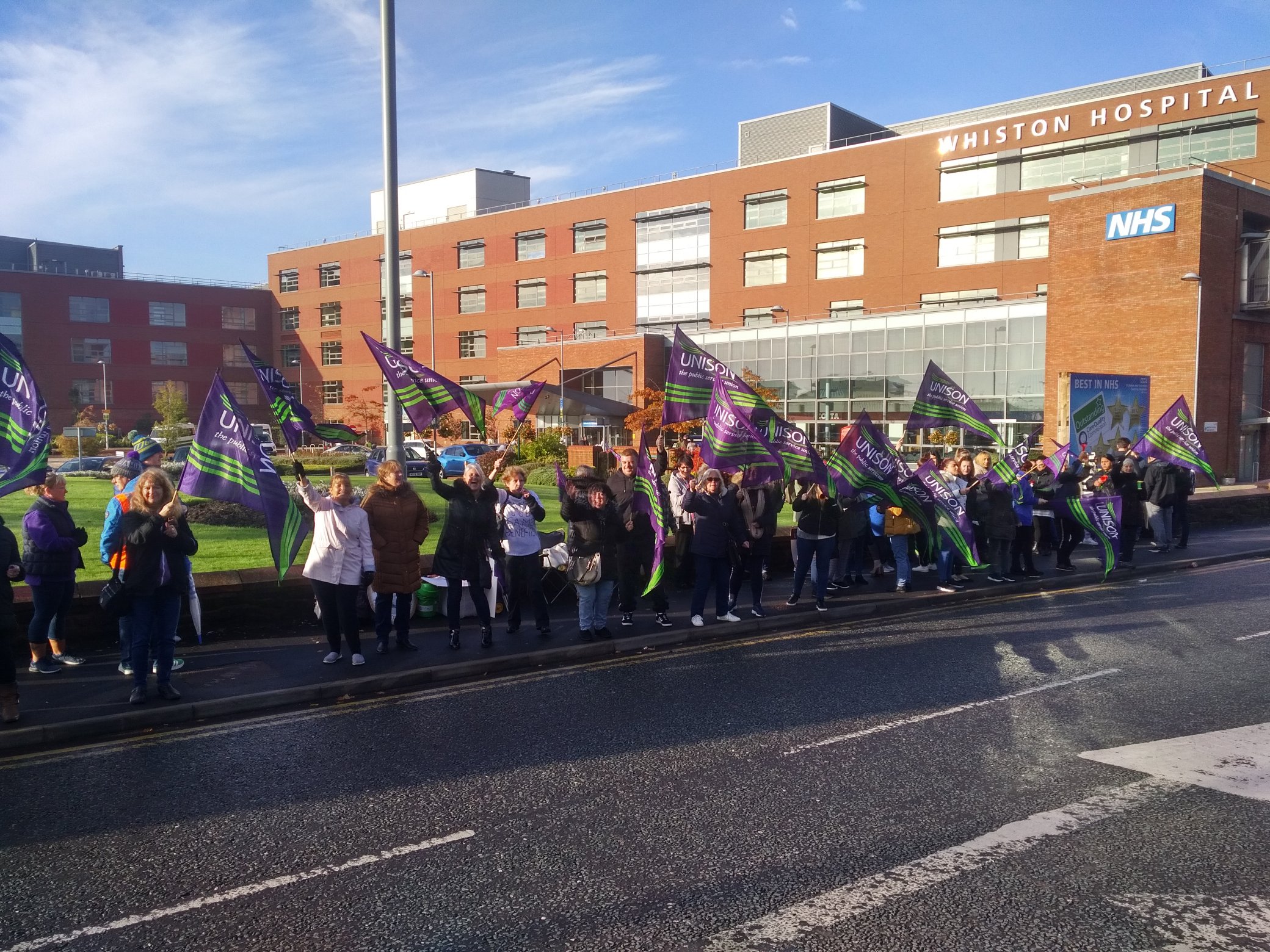 Private contractor Compass is failing to complete the necessary disclosure and barring service (DBS) checks while recruiting hospital cleaners and caterers to cover the latest strike action in St Helens.
Around 300 staff employed by private contractor Compass within two NHS trusts in St Helens and Blackpool are taking strike action over the company's failure to match health service pay rates and working conditions. The new staff have been recruited to cover permanent workers who began a further six days of strike action on Monday.
Compass have been recruiting for new staff at local job centres, including Huyton Job Centre. A source close to UNISON enquired about a vacancy and was given the name and phone number of a Compass recruitment manager who explained that there were temporary domestic and catering vacancies to cover the ongoing strike action.
The same manager added that the catering vacancies were only needed to cover the industrial action, but some of the domestic posts might be made permanent.
In a revelation which will shock patients and staff at St Helens and Whiston Hospitals, the Compass manager then stated that new recruits would not need to undertake a DBS check, something which is normally mandatory for new hospital staff.
It has also emerged that Compass are paying these new recruits £10.50 per hour – almost £1.50 more than the striking workers are asking for.
UNISON regional organiser Pat Woolham said: "Rather than engage with their own hardworking staff, Compass has sought to break the strike by employing temporary workers. This is indicative of how it treats its hospital staff – as if they are disposable, to be hired and fired at whim.
"Compass made over £1.5bn profit last year, and all its existing staff are asking for is to be paid the same as their NHS colleagues. It's a disgrace that Compass is behaving in such an underhand way, yet refusing to get back around the table as UNISON has repeatedly suggested.
"Compass is now jeopardising the safety of other staff and hospital patients in St Helens. It is NHS trust policy here that all staff are DBS checked before they start work. These revelations will spark concern that Compass are putting patient safety at risk by seeking to bypass criminal record checks.
"Compass seems prepared to throw the trust and its patients and staff under the bus to avoid settling this dispute. This multi-national company clearly has no regard for local people, it's time for the trust to stand up to them before it's too late."
Most of the hospital cleaners, caterers, porters, receptionists and security workers affected are paid the minimum wage rate of £8.21 an hour, yet work alongside colleagues who are employed directly by the NHS, where the lowest hourly pay is £9.03. This difference of 82p an hour is worth around £1,500 a year for full-time staff.
On top of the lower hourly rate of pay, Compass staff are further disadvantaged as they receive no shift bonuses for working weekends and bank holidays. In addition, they get only statutory sick pay, while their NHS colleagues are able to access a comprehensive sick pay scheme. 
UNISON has condemned Compass for making no genuine attempts to resolve the dispute, which has rumbled on since July. Hospital cleaners in Blackpool have not received a single pay offer from the company. They have already taken six days of strike action during this dispute.
This is the fourth round of action on the issue by these hospital workers, following a one-day strike on 31 July, a two-day strike which began on 27 August and a three-day strike on 19 September. A further planned strike at Liverpool Heart and Chest Hospital NHS Foundation Trust was called off after the trust – rather than the company – agreed to fund the pay parity with NHS colleagues.
Strike picket lines will take place at Whiston Hospital and Blackpool Victoria Hospital on 14, 16, 18, 20, 22 and 24 October. A rally will take place at the Ruskin Hotel, Blackpool on Sunday from 3pm.
Do you like this post?