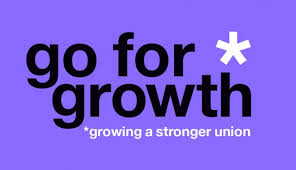 I have begun the year by reflecting on our recruitment and retention figures for 2019. There are some exceptional statistics that are testament to the excellent work of activists and organisers across our region.
Crucially, we smashed our target of 22,000 new members, recruiting a total of 25,270 members throughout the year. This was a 5% increase on recruitment levels from 2018 and meant that the region ended the year in net growth.
Despite all of the challenges- a decade of austerity and tens of thousands of public sector job cuts in our region- it is an amazing achievement for us to sustain growth year on year. Our health service group maintained the excellent recruitment levels of 2018 and our local government service group delivered a 10% increase on their recruitment levels. Higher education branches, plus police and justice branches also achieved significant recruitment increases. Well done to all who contributed to this effort. Special commendations go to North West Ambulance Service, Manchester University Healthcare and St Helens & Knowsley Health branches for their exceptional recruitment levels.
There is another side to this story though, one that is more worrying for our union. Whilst our recruitment levels continue to improve, the real challenge remains holding on to our members. Our leavers rate increased by 12% in 2019, and this increase offset much of the outstanding recruitment work across the region. Though this is a problem facing all regions and service groups within the union, it is one that we must meet head on here in the North West.
Many of our new joiners came through our campaigns and disputes in 2019. This is clearly evidenced by the huge recruitment levels for St Helens & Knowsley health- the main branch for members who won their dispute with Compass Medirest. Members who join during a dispute or campaign and engage with other activists are far more likely to retain their membership of UNISON. This is yet another reason to organise and campaign on local workplace issues.

However, it is not realistic to expect that all of our new members will join as part of a campaign or dispute. As a result, we have to find a way to make all new members feel part of the union straight away, no matter how or why they joined the union. In 2019, 2/3 of our new recruits joined UNISON online. This figure will continue to increase year on year. This means that 2/3 of our new joiners may not have had a conversation with an activist or an organiser prior to joining.
A significant section of the workforce is now from a generation who are used to signing up to numerous services such as Spotify or Netflix and simply cancelling their subscriptions if they are not using them regularly. We must find ways of engaging this group of younger members quickly when they join, in order to make them feel part of the union. This will prevent them from viewing us as another subscription service and leaving the union. We do not have all of the answers yet, but communication with new members will be key to improving our retention rates.
We must all make improving retention a priority within our own branches. One tried and tested tactic is to ensure that we make contact with all members whose membership has recently lapsed. There are many cases where our members have left the union by default, rather than by making a conscious decision to do so. Follow up contact with these members can lead to them rejoining, and can help us to improve our own processes. Finally, we must work to guarantee that any DOCAS arrangements transfer with our members if they are TUPE'd out of core employers.
Underpinning our entire recruitment and retention strategy are the organising principles which drive our entire work programme in the North West. We recruit and retain in order to organise and we organise to win, on both an industrial and a political level. We had some huge victories in 2019 and we ended the year a more organised region than we started it. As we begin 5 years of Boris Johnson-led Tory Government, it's clear that trade unions will lead the resistance. It is our duty to strive for continuous improvement when it comes to recruitment and retention to equip us well for this fight.
Do you like this post?